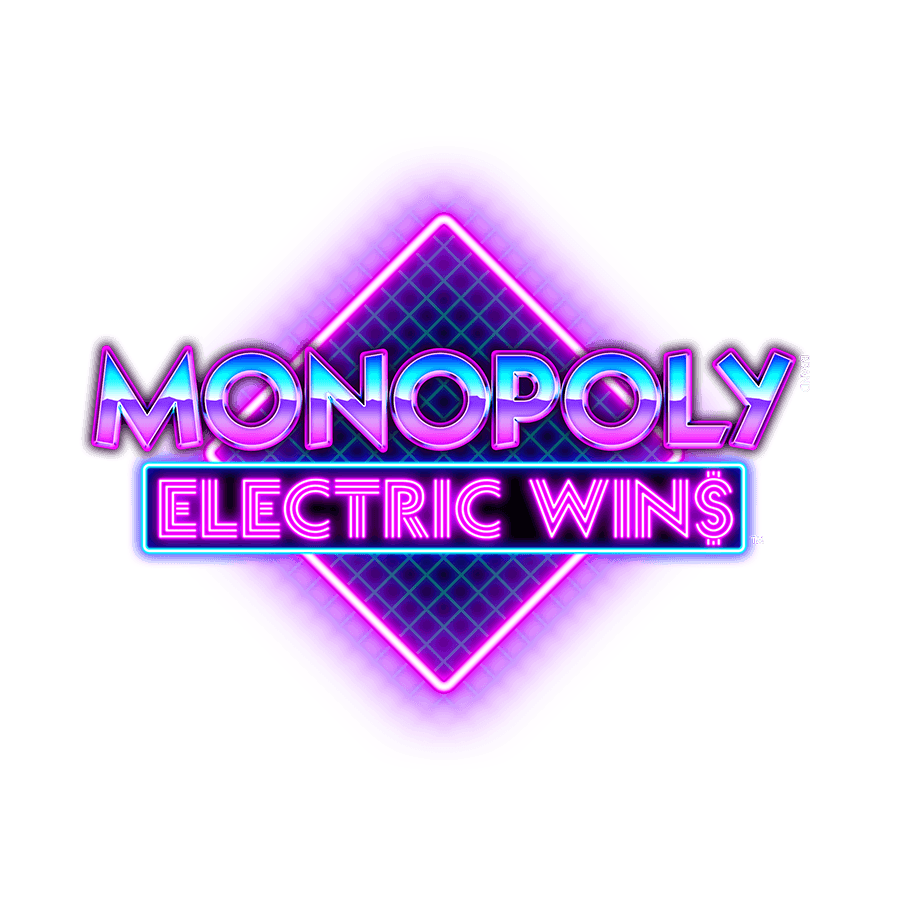 Monopoly Electric Win$
MONOPOLY © 1935, 2019 Hasbro. All Rights Reserved.
Based on the best-selling board game of the same name, Monopoly Electric Wins has been tried and tested both online and off. Offering a modern twist on the original, its flashy neon design and numerous bonus features ensure it's futuristic and filled with twists and turns!
Monopoly Electric Wins Slot Game Details
Drawing inspiration from the ever-popular board game, our Monopoly Electric Wins slot is sure to deliver plenty of fun. Filled to the brim with features, it offers an incredible 729 different ways to win!
Designed by the renowned SGD creative studio, Monopoly Electric Wins has an unusual six-reel format and a series of inbuilt extras, from mystery symbols and wilds to multipliers and more.
Monopoly Electric Wins Slot Symbols
As you'd expect from a Monopoly-themed slot, this fantastically fun title has lots of familiar icons. These include the car, dinosaur, steamship, and top hat, along with jailers, rings, money chests, and more.
If you want to get really lucky, keep your fingers crossed that Mr Monopoly himself makes an appearance. This high-paying symbol has the biggest reward on the board, delivering five times your stake if you're fortunate enough to score six in a row.   
A neon wild symbol is also at play, which swaps in for any and all regular symbols to help you deliver a winning combination.  
Features and How to Play Monopoly Electric Wins Slot
If you're wondering what added extras are likely to appear in-game, there are plenty to keep an eye out for, including:
A classic free spins round, that includes extra cash prizes
Multiplier wilds, which can replace all other wilds and combine to increase your win.
Monopoly board features, which allow you to purchase unowned properties, develop these, and earn extra rewards.
A free spins bonus feature, which is triggered when you have a full set of hotels on properties of the same colour. Dark blue pays the most, awarding lucky individuals up to 25 times their stake!
How to Bet on Monopoly Electric Wins Slot
Keen to place your first Electric Wins Monopoly bet? Here's all you need to know before you hit that all important 'Spin' button:
Paylines & Reel Wins
The Electric Wins Monopoly casino slot operates with a six-reel game mechanic, with 729 ways to win during any base game spin.  
Coin Values
The available coin denominations to wager on the reels of Monopoly Electric Wins are as follows: 0.20 credits, 0.60 credits, 1 credit, 2 credits, 5 credits, 10 credits, and 15 credits.  
Minimum bet & Maximum bet
The minimum stake per spin is 0.20 credits and the maximum stake per spin is 15 credits.  
Wilds & Scatter Symbols
The neon wild is, unsurprisingly, this slot's wild symbol. It can replace any other base game symbol to improve winning paylines other than the electric bulb scatter.  
Free Spins feature
Get a full set of hotels on properties of the same colour to enter the Electric Wins Monopoly Free Spins Bonus stage. You'll roll two dice to determine how many spins you receive from four to 16.  
Bonus Rounds
No less than eight Monopoly Board reel modifiers which are triggered whenever you land on squares like Chance, Community Chest, Go to Jail, Water Works, and the Electric Bulb.  
Payouts & Volatility
The maximum base game payout is worth 100x your initial stake, which means a maximum of 1,500 credits. Monopoly Electric Wins is also considered a low-to-medium volatility slot.
Autoplay feature
This slot also contains an Autoplay feature, giving you the option of playing up to 100 spins from just a single click. You can set single loss and win limits too if you want to minimise your losses.
Game Theme, Graphics, Look & Feel
Visually, the Monopoly Electric Wins slot has been given something of a neon-inspired makeover. There's lots of bright blues and pinks that makes you feel like you're playing a video slot machine. It's all designed to give the Monopoly franchise a futuristic skin, instead of it classic branding that we've come to know and love through the generations.
The game features the iconic Monopoly board surrounding the six reels that spin within the board. You can work your way around the gameboard and land on squares, which activate one of eight different bonus features and on-screen modifiers.
Free Play in Demo Mode
As the gameplay in the Electric Wins Monopoly Slot Game is a little different to most conventional slots, you might want to get to grips with the game dynamics first. That's why we offer free play to all Paddy Power Games customers.
Just log in to your account and hit the 'Demo' button on-screen to get started. You'll receive 1,000 play money credits to use and understand the mechanics and how each bonus feature is triggered. Although, bear in mind that you cannot win any real money jackpots in the demo mode.
Real Money Play
Once you are ready to play Electric Wins Monopoly real money spins, just hit the 'Play Now' button to get things started. It's possible to toggle how much you stake per spin using the 'Total Bet' function beneath the reels.
Click the plus or minus buttons to increase or decrease the size of your stake. You can toggle this between every spin if you wish. You're not committed to one stake size for your entire session.
Monopoly Electric Wins FAQs
How do I buy houses on Monopoly slots?
If you want to build houses and hotels on the properties you own on Monopoly Electric Wins, you'll need to own all properties of the same colour first. You can only build houses and hotels by landing on the property you wish to expand. You can only build four houses on each property before a hotel.
Can I play Monopoly slots online for money?
Paddy Power Games is the place to be for Monopoly-themed slots. Our Electric Wins Monopoly casino slot is available in free play and real money modes, so you can start playing for real money prizes whenever you're ready.
It's possible to win up to 100x multipliers in the base game of Monopoly Electric Wins when you find six of the branded logo symbols on the same payline.
Is it safe to play Monopoly slots at an online casino?
At Paddy Power Games, we only want our customers to play the fairest and safest slot games. All our Monopoly slot titles available on desktop or mobile are developed by reputable developers like SG Digital, which should give you peace of mind.
If that's not enough to convince you, we're also licensed and regulated by the UK Gambling Commission (UKGC) and Malta Gaming Authority (MGA). Looking after your best interests is part and parcel of maintaining compliance with both jurisdictions.
Can I win real money by playing Monopoly slots online?
Yes, absolutely. You can not only play with real money on our Electric Wins Monopoly slot game but, like the slot title says, you can bag plenty of electric real money payouts too.
There's no fewer than ten base game symbols that can work in your favour to land you a winning payline. These range from the branded logo, Mr. Monopoly himself, the smiling dog, through to the iconic policeman figure and a quartet of Monopoly board game pieces.
Do I need to download software to play Monopoly slots?
Not at all. Whether you prefer to play slots at Paddy Power Games on desktop or mobile, you can still log in via our fully responsive website. Our website is optimised to give you the best possible Monopoly slot experience, regardless of your screen size.
Alternatively, you can download our native mobile apps which are available for both iOS and Android mobile users.
What is the maximum win in Monopoly slots?
The maximum jackpot in the base game version of the Electric Wins Monopoly slot game is 100x your initial stake.
Given that it's possible to wager up to 15 credits per spin, this means that you could land payouts worth 1,500 credits from a single click. To do so, you must land six of the branded Monopoly Electric Wins logo symbols on the same payline.
What is the most popular Monopoly online casino game?
At the time of writing, Paddy Power Games has two Monopoly casino games that are proving exceptionally popular with new and existing customers.
First and foremost, there's the Electric Wins Monopoly slot online, which offers exciting Monopoly payouts, followed by the live dealer casino gameshow called Monopoly Live.
Monopoly slots or Live Monopoly – which one is the best?
Our honest is answer is – we love them both! Our Electric Wins Monopoly casino slot delivers an ultra-slick, modern slot experience with action-packed bonus features lurking behind every spin of the reels.
Our Monopoly Live casino gameshow is equally engaging, with players able to spin the wheel and chat to our friendly and approachable hosts.
There's also the virtual 3D bonus game which transports you into the world of Mr. Monopoly.
If you like playing Monopoly, you might also like our live casino Monopoly game.