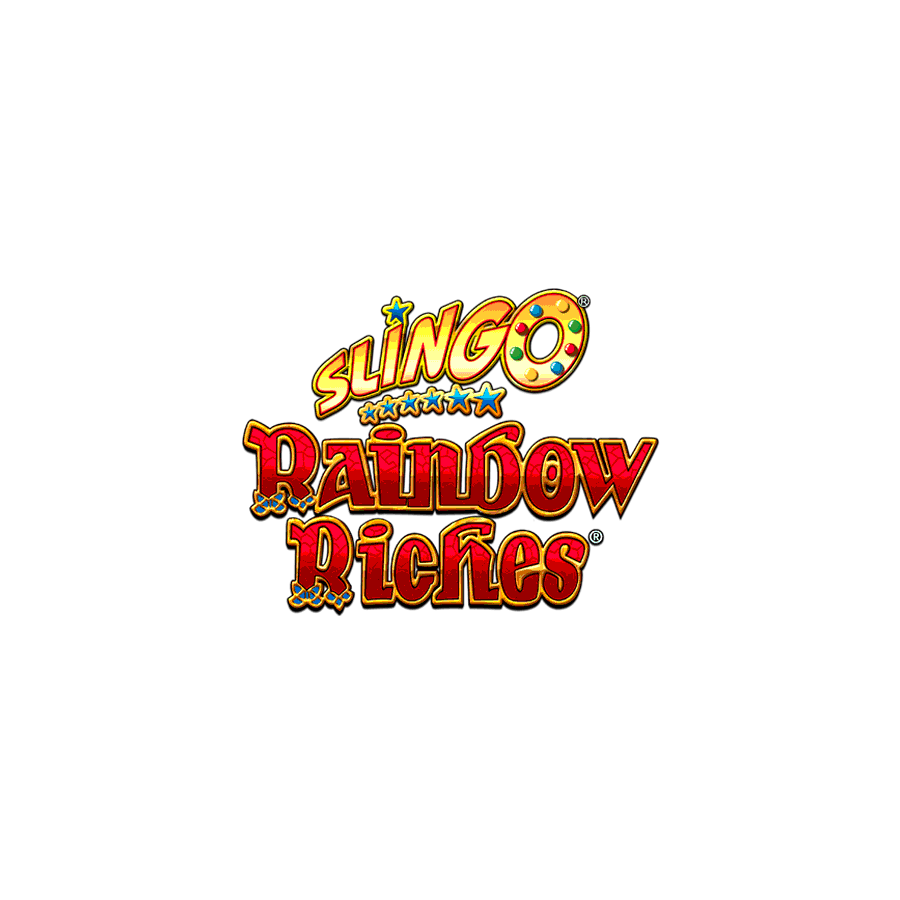 Rainbow Riches Slingo
Play Rainbow Riches Slingo Online at Paddy Power
Rainbow Riches has long numbered among the most popular games online, and it's just got even better! Thanks to the creative geniuses at Slingo, everyone's favourite game has now added a little bit of bingo magic to the equation too.
Why not play today at PaddyPower.com?
Rainbow Riches Slingo Game Details
If you're a fan of slingo and also have an enduring love of Rainbow Riches, this may very well be the perfect game for you. Combining the best of both worlds, it takes players on a fun adventure to help them find that elusive pot of gold.
With five reels and 12 win lines, Rainbow Riches Slingo transports you to a mystical realm, where the aim of the game is to take home the treasure. Along the way, however, you're in for some excitement, with a slew of amazing bonus rounds to up the ante. 
Rainbow Riches Slingo Symbols
Rainbow Riches naturally has its fair shares of symbols, but there are a few, in particular, that you need to keep an eye out for. Foremost among them is the Joker, whose appearance allows you to cross off any number in the row where it appears.
If you're really lucky, you might spot a Super Joker popping up, in which case you can mark off any number at all! Free Spin symbols can appear too, allowing you the chance to keep on playing without spending any extra.
Beware of the Devil symbol, however; this nasty character will block you from claiming your win!   
Features and How to Play Rainbow Riches Slingo
If you're wondering how it works, rest assured that Rainbow Riches is super easy to play. To begin, simply set your stake by increasing or decreasing the amount as you wish. Once you're ready, press 'Start' and let the spins begin!
The aim, naturally, is to mark off as many numbers as you can, but there are certain features you'll want to watch out for along the way. These include seven unique and exciting bonus rounds, which will reward you with everything from special prizes to multipliers! 
These include:
●     The Wishing Well
●     Cash Crop
●     Magic Toadstool
●     Magic Toadstool Red
●     Road to Riches
●     Road to Riches Red
●     Pots of Gold
●     Bonus Rounds
Let's take a more detailed look at what each exciting bonus stage entails in the Rainbow Riches Slingo game:
The Wishing Well
Visit the Wishing Well and enter this pick-me bonus screen. Here, you'll select one of three Wishing Wells - choose wisely as this will reveal a multiplier which is subsequently applied to your initial stake as winnings!
Cash Crop
Land on the leprechaun symbol on the bonus ladder to activate the Cash Crop bonus feature. 50 gold coins spin to display winning values, with the ability to work through four stages where multipliers steadily increase over time, from 0.5x to 10x your initial stake.
Magic Toadstool
The Magic Toadstool is another equally enchanting pick-me bonus screen. Select one of the three toadstools on-screen. The multiplier values are worth between 1x and 5x. If you're lucky enough to pick the fairy symbol, the bonus screen will reset and give you another chance to pick a multiplier! Revealing all values with two picks remaining will treble your payout or reveal all values with one pick left to double your winnings.
Magic Toadstool Red
Work your way even further up the bonus ladder to trigger the souped-up version of the Magic Toadstool bonus. The Red bonus version gives you a choice of four toadstools instead of three, increasing your chances of trebling or doubling your accumulated wins.
Road to Riches
Advance along the Road to Riches feature using the bonus wheel. Whenever the wheel stops on 'Collect' the bonus round will end and you'll receive the multipliers accumulated along the prize trail.
Road to Riches Red
Like the Magic Toadstool Red bonus, the Road to Riches Red feature is an amplified version of the original. Whenever you reach the next step up the bonus ladder, you'll play the same game with all multipliers doubled along the trail.
Pots of Gold
Reach the very summit of the bonus ladder to trigger the Pots of Gold bonus game. You'll see a dozen pots spin above a golden arrow. You'll receive an instant prize worth whatever the arrow lands on.
How to bet
Paylines As with most Slingo games, there are no active paylines that operate in the same way as a conventional game. However, you could consider the five rows on the 5x5 game board as individual paylines. They are five of the 12 win lines you can use to create Slingos horizontally, vertically, and diagonally. You must mark off each number on a row to complete a line and make a Slingo.
Bet sizes and total bets The minimum bet when you play Rainbow Riches Slingo is set at 0.20 credits. The size of your initial stake relates to the size of bonuses available on the bonus ladder.
Free spins bonus Whenever the 'Free Spin' symbol appears on the game reel, you will be granted one additional spin, which is added to your remaining total.
Game Theme and Graphics
As you would expect from the Rainbow Riches franchise, Rainbow Riches Slingo continues with the leprechaun theme, with the 5x5 game board set within lush, green Irish countryside. Aesthetically, the game has more of a cartoon feel than most online games, and with seven bonus features, there's plenty to keep you entertained.
Free Play in Demo Mode
Rainbow Riches Slingo demo play is almost identical to the real deal, except you're not playing for real money prizes, of course. Your play money balance is displayed above the 5x5 board. The balance starts at 1,000 and you can start playing from five play-money credits per game.
Real Money Play
When you play for real money, you'll see your real money Paddy Power Games balance displayed at the top of the game screen above the 5x5 board. You can toggle the size of your stake with each game you play using the plus and minus buttons. Extra spins can also be bought at the end of your ten initial spins. The price for the next spin is displayed in the red 'Spin' button.
FAQs
What is the difference between Rainbow Riches slot and Rainbow Riches Slingo?
The primary difference between the original Rainbow Riches slot and the Rainbow Riches Slingo game is the game dynamics. The Rainbow Slingo version is played on a 5x5 bingo-style board, with one row of reels to spin. This single row spins and marks off matching numbers on your 5x5 slingo board. Instead of being able to spin as many times as you want, you get an initial ten spins, followed by the option of buying more spins at the end of the game. This is a popular Slingo Rainbow Riches strategy to deploy if you are close to working your way up the bonus ladder, positioned to the left of the 5x5 slingo board. 
Can I play Rainbow Riches Slingo for free?
Yes, there is a way to play Slingo Rainbow Riches free. Providing you are logged in to your Paddy Power Games account, it is possible to sample Slingo Rainbow Riches free online. You'll have the option of loading up the demo, which gives you Rainbow Riches Slingo free play money to use and then get to grips with the action! This is particularly handy if you are a newcomer to the franchise or to slingo in general.
Can I play Rainbow Riches Slingo on my phone?
Yes, absolutely. At Paddy Power Games, you can enjoy all our slingo games on any smartphone or tablet device. Our online casino is fully responsive, which means that whatever screen size you have, our software will deliver the optimal gaming experience to your handset. You can download our iOS and Android Paddy Power Games app or simply log in to our mobile-friendly site via your preferred mobile browser.
Is it safe to play Rainbow Riches Slingo at an online casino?
You can have peace of mind playing on Rainbow Riches Slingo sites - this includes the Slingo Rainbow Riches demo play - provided you choose an online casino that's licensed and regulated. This means that your chosen operator must abide by compliance rules that have the best interests of player security and safety at heart. At Paddy Power Games, we are regulated and licensed by the UK Gambling Commission (UKGC). This means you can play Slingo Rainbow Riches online with us, safe in the knowledge that our games are periodically tested by third parties for fair, transparent gaming.
How can I get free spins on Rainbow Riches Slingo?
It is possible to unlock additional free spins on the reel of Rainbow Riches Slingo by landing one of the Free Spin symbols on the reel. Each time you lock this in, you'll receive one extra spin to your remaining total.
You might also like: