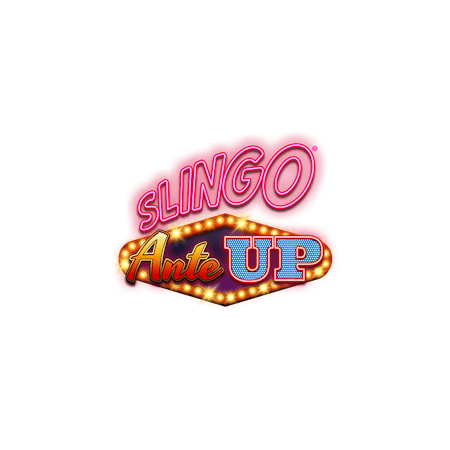 Slingo Ante Up
Slingo Ante Up Game Details
There is an old saying that goes whatever happens in Vegas, stays in Vegas. Buckle in for a wild ride as you are about to explore all of the glitz and glam that comes with the great Las Vegas.
In Slingo Originals' Las Vegas themed game, Slingo Ante Up, you are the one who is in control. You have the option to alter the volatility of this game by picking how many spins per round you want to play. Get ready to start singing Viva Las Vegas!
●     Created by Slingo Originals
●     Spins per round 9 - 16
●     Wins of up to 500x your bet
●     Las Vegas Themed
Slingo Ante Up Symbols
In Slingo, the main playing area resembles a bingo card, with a singular reel being in charge of all of the action. The bingo card is five spaces wide by five spaces tall, and the numbers which start from one and go all the way up to 80 are randomly placed on this playing sheet.
It is the singular reel, which is found at the bottom of the playing card, which determines which numbers are to be marked off. However, this single reel does not only have numbers, but it also has the Wild symbol, the Free Spins symbol, and the Super Joker symbol. Each three of these symbols will help you up the ante!
Features and How to Play Slingo Ante Up
You only need to pick how many spins you wish to play with per round, set your bet amount, and let the reel do the rest of the work! Keep your eyes peeled for the shape of blockers. These symbols could potentially risk your gameplay.
Are you ready to play? Up the Ante over at Paddy Power.
You might also like:
Slingo Ante Up FAQ
HOW VOLATILE IS THE GAME SLINGO ANTE UP?
Slingo Ante Up is one of the Medium volatility games you can play at Paddy Power.
WHAT IS THE THEME OF THE GAME SLINGO ANTE UP?
Slingo Ante Up is one of the Branded themed games offered by Paddy Power.