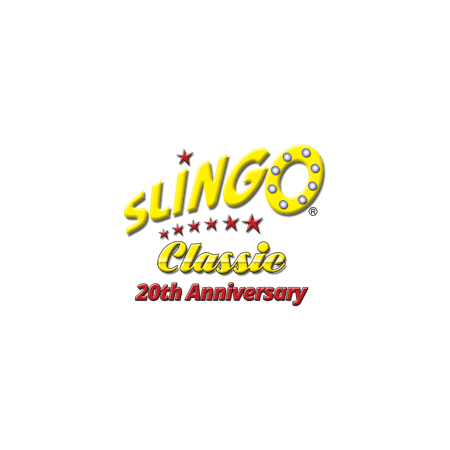 Slingo Classic
Slingo Classic Game Details
Time flies when you are having fun! Come join everyone at Slingo as they are celebrating their stunning 20th anniversary with Slingo Classic! It's back to basics, as we revisit where this whole journey started. Slingo Classic encapsulates everything great about the very first rendition of a Slingo game! Are you ready to experience the highlights?
●     Created by Slingo Originals
●     Created for their 20th anniversary
●     11 spins per round
●     Wins of up to 500x your stake
Slingo Classic Symbols
The classics are back in this game. The main playing area is the well known and loved five by five bingo card which is sure to get you nostalgic. The numbers on the bingo card start from one and reach up to 70.
In the spirit of bingo, the numbers are placed randomly across the bingo card, with the added excitement of a single reel found at the bottom of the bingo card. This reel is where the winning numbers will be shown, together with some extra special symbols! The Joker, Super Joker, Free Spins, and Devil symbols can all influence your gameplay!
Features and How to Play Slingo Classic
The game aims to reach as many Slingos as you can! Spin, spin, spin that singular reel and hope that the winnings numbers are on your bingo card. The more numbers you mark off, the closer you are to a Slingo! Each game starts with a total of 11 spins and a chance of buying eight extra spins.
Every time you get a Slingo you will be rewarded with a prize! The more Jokers or Super Jokers you manage to land on the single reel, the more control you have over your game! These jokers give you the power to mark off any number on the playing card.
Let's Slingo! Slingo Classic awaits new and existing players at Paddy Power.
Slingo Classic FAQ
HOW VOLATILE IS THE GAME SLINGO CLASSIC?
Slingo Classic is one of the Medium volatility games you can play at Paddy Power.
WHAT IS THE THEME OF THE GAME SLINGO CLASSIC?
Slingo Classic is one of the Branded themed games offered by Paddy Power.