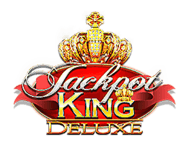 Jackpot King
Jackpot King can be won on any spin
Play King Jackpot games on Paddy Power
The Jackpot King is hot and closing in on a huge £/€4m and guess what, you can win on any spin!
What could be better than winning a jackpot? That's right, playing for three jackpots in a single game! Here at Paddy Power Games, we've created our own community prize pool where players contribute to a collective pot together for their time online. Known as the Jackpot King, this pot of cash is constantly being topped up, so there are some serious prizes up for grabs when you play Jackpot King slots.
How to Win with Jackpot King
To be in with a chance of winning a Jackpot King prize, join us and play. Because the progressive jackpot is a supplement to the main game, you can play as if it wasn't there. Indeed, because the buy-ins, paylines, fixed payouts and everything is the same, so you can sit back and relax. You can win big Jackpot King prizes on any spin no matter the stake. How big? Well, that depends on when the last jackpot was won and how many people have been playing. However, as a standard, you can expect seven-figure payouts and even prizes topping £1,000,000.
Jackpot King Prizes Include:
-          Royal Pot. Guaranteed to pop before £/€3,500.
-          Regal Pot.  Guaranteed to pop before £/€35,000.
-          Jackpot King Major.  The biggest Jackpot on offer with over £3.8m to be won by one lucky player.
The Royal and Regal Pots are progressive jackpots which must be won before they hit their top prize value! When you play any Jackpot King branded game you have the chance of winning the Royal, Regal or Jackpot King Jackpot! And remember, you can win on any spin! No matter the value.
Jackpot King Games
Jackpot King Games are the best of the best when it comes to online slots. This means you'll get to see fantastic graphics, enjoy slick gameplay and access impressive bonus features when you try these picks. However, that's not the best thing. Because each game is connected to the Jackpot King network, you get all of this, plus the chance to win a huge progressive payout. Basically, you can think about it like this: Jackpot King slots take the very best online slots and make them even better with a progressive prize pool!
Our selection of Jackpot King slots is constantly changing. As new games go live and others become popular, we like to bring them into our community prize pool. Join Paddy Power Games today and you'll be able to play Jackpot King slots via your desktop or mobile.
Our top Picks: