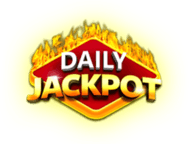 Monster Jackpot
Can be won on any spin at any stake
Daily Jackpots
You're not special, they're won every day! The newest concept in online gaming is one that will give you brand-new ways to win more money on a daily basis. By taking the concept of progressive jackpots and fusing with a bonus-style system, we've come up with something that's not only unique, but highly lucrative. Put simply, if you're a fan of online casino slots and you're looking for better payouts and prizes, you need to check out our Daily Jackpots Lobby.
What Are Daily Jackpots?
Our Daily Jackpots Lobby is a place where you'll find a selection of games that have all been augmented by a special bonus prize pool. Designed by our in-house promotions team, these daily rewards take the form of progressive jackpots that run alongside the main pay-out table offered by each game.
In the same way that standard progressive online jackpots can grow based on the contributions made by players, our daily prizes can do the same. This is a pooled jackpot prize, so you are playing against customers of other brands. What's more, because they are daily jackpots, someone has to win each day. 
Finally, when you choose to play one of our Daily Jackpot slots, you can still experience big wins on the reels. These offers are a supplement to any standard prizes, which means you're getting two (or more) potential payouts for the price of one!
How Much Are Daily Jackpots Worth?
The average daily payout for these games is £/€40,000, but that doesn't tell the full story. Because the prize pools have the power to grow throughout the day, you could win even more. In fact, the jackpot has been known to top the £/€70,000 mark in the past. These jackpots are available every single day (unsurprisingly) when you join us here at Paddy Power Games.
What Games Can I Play?
There's a huge 60 Daily Jackpot Games to pick from! As long as you click on the Daily Jackpots header each day, find the games marked as valid and start spinning, you'll be in with a shot of winning.
Some of our favourites include: