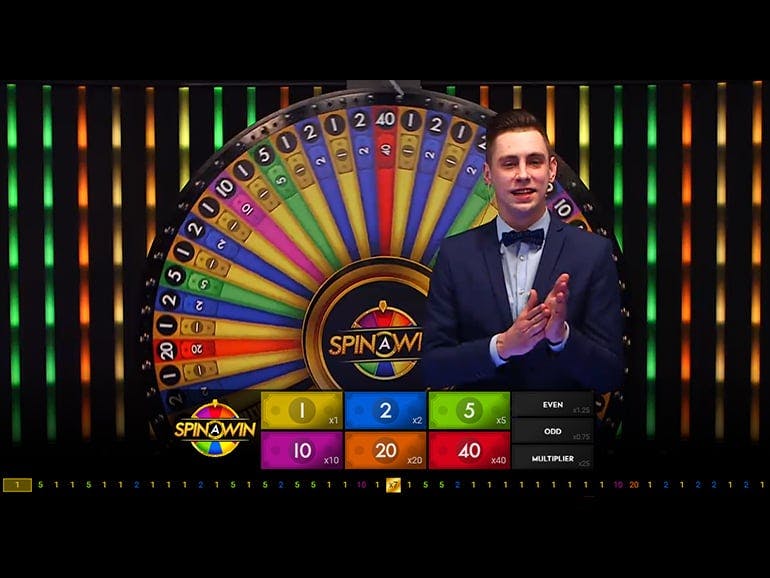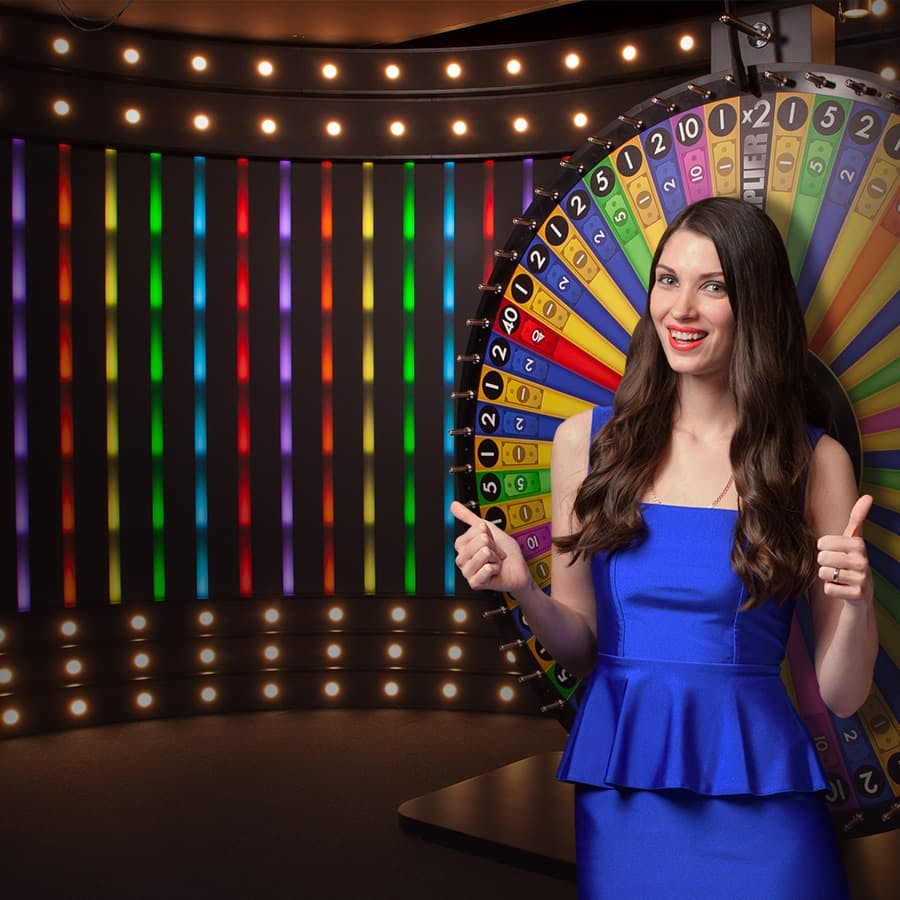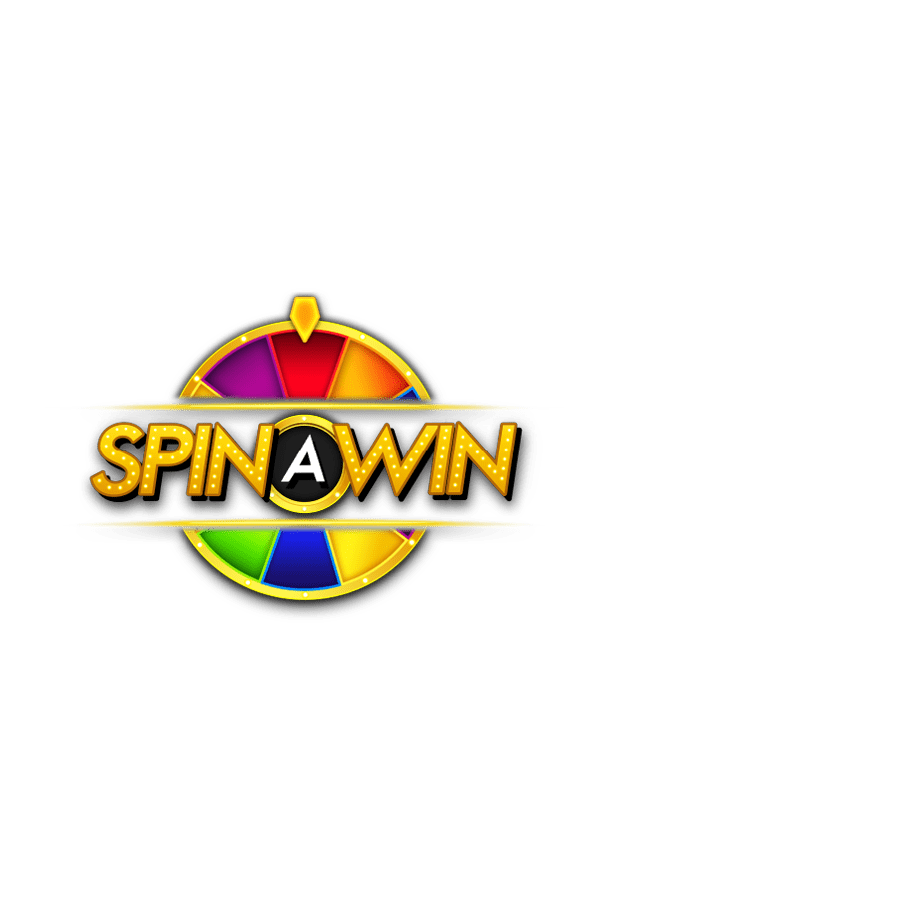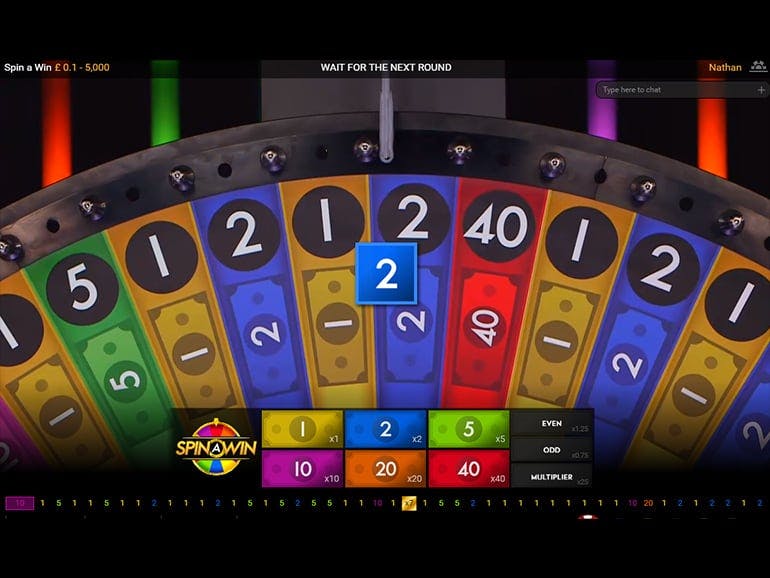 RTP 90.67% - 97.22%
Live Game Shows
Live Spin a Win
Live Spin a Win info
Live Spin A Win Game Details
If you enjoyed that old TV favourite: Wheel of Fortune, on TV (or the internet if you're too young to remember the original), then this is the game for you. This is Playtech's take on the famous prize wheel. Live Spin A Win is your chance to win prizes ranging from 1x to 40x your stake. And watch out for those multipliers, which can boost a win by up to seven times, meaning a 40x win turns into a 280x win, not bad eh! For an insight into how to play Live Spin A Win and what to expect when you play a spin and win game, here's a quick guide:
Live Spin A Win Info:
       Easy to play
       Win up to 40x your stake on a single bet
       Play from as little as 0.10 coins
       Software Provider: Playtech
Live Spin A Win Betting Options 
Spin A Win Wheel, Interface and Display
The Live Spin A Win display couldn't be more colourful as the live studio is decorated with a technicolour wheel of fortune, a colourful LED-lit background and an amazing live dealer who will help walk you through the game. The game functions are simple, all you need to do is decide how much you want to bet and which section you want to bet on!
Betting on Colours
Live Spin A Win's wheel has six different colours, with each colour segment corresponding to a bet multiplier. The multiplier increments are set at 1, 2, 5, 10, 20 and 40. These coloured bets take up all bar two of the total 54 segments found on the wheel and how often they appear on the wheel depends on how big of a multiplier they are. For example, the 1x multiplier takes up 23 segments on the wheel whilst the 40x multiplier only appears once.
Betting on Odd numbers, Even numbers & Multipliers 
What the wheel will land on is not the only thing which you can bet on. You also have the possibility of betting on whether or not the wheel will land on an odd, even or a special multiplier space. The potential payouts for these are as follows:
- Odd 0.75x your stake
- Even 1.25x your stake
- Multiplier 25x your stake
Betting Options
The betting options in Live Spin A Win are presented as poker chips, where each chip represents a different bet amount. The minimum bet for this wacky live casino game is 0.10, with a wide range of betting options catering to both low and high rollers alike!
Side Bets
Side bets can be placed either on their own or in combination with any of the numbers found on the technicolour wheel. With a side bet, you can bet on Odd, Even or Multiplier. Odds win if the wheel lands on 1 or 5 and Evens if it's 2, 10, 20 or 40. You'll see a payout from a Multiplier side bet if it lands on Multiplier x2 or Multiplier x7.
Although side bets can be made separately from the number bets, these side bets do not apply to the payout structure. This means that multipliers can only be won if the number was bet on.
Multiple Bets
Live Spin A Win supports multiple bets. If you wish to bet on a specific number winning and you also wish to add in an odd or even bet you can do so.
Payouts and Volatility
All winnings are paid out at the end of each round, so as soon as the wheel stops spinning your winnings will be awarded! 
Features and How to Play Live Spin A Win
The beauty of Live Spin A Win is that you can bet on as many or as few options as you like. What's more, you can go for higher risk options or lower risk ones, it's up to you. Each option has a bigger or smaller chance of landing based on the frequency it occurs on the wheel. For example, Yellow is more common than Red, which is why the latter is worth more. This is what makes the online spin and win casino experience exciting and suitable for every type of player.
To play Live Spin A Win, as well as Live Hi-Lo and other live casino games, you can either use our sign-up link and join Paddy Power Games today or just log in if you're already a customer!
How can I bet on Live Spin A Win? 
Since this game is played with a dealer, bets can only be placed once betting is open. Once betting is open, you can pick the number and colour that you wish to bet on, together with the amount that you want to stake. But, don't take forever to choose as after some time the bets will be closed so that all eyes can move to the technicolour Live Spin A Win wheel! Bets cannot be changed or altered once the wheel is set in motion, so you better hope that the wheel lands on your bet!
Can I win real money on Spin A Win?
Yes, it is possible to spin and win real money! Any winnings won from this game are added to your regular account balance, which can then be withdrawn. Of course, if you're playing with bonus funds, they will be subject to any relevant wagering requirements.
Can I play Spin A Win for free?
Unfortunately not. Due to the live nature of this game, a demo mode of Spin A Win is not available.
How does Spin A Win work?
Live Spin A Win is very simple to play and understand as a live dealer is there to assist you throughout. Upon entering the game, you are given a short amount of time to pick which number you wish to bet on, and if you wish to bet on odd or even. Once the allocated betting time is up, the live dealer will close the betting option and set the technicolour wheel of fortune in motion! The only thing that can be done once the wheel is in motion is to cross your fingers and toes!
Is it safe to play Spin A Win at an online casino?
Playtech have done various tests on this live casino game to ensure that it is safe to play their spin and win game. In Live Spin A Win, the wheel of fortune is spun live by a live dealer. This means that there is no space for any tricks - everything can be seen being done in real-time. Meanwhile, you can rest assured that Paddy Power only operates in conjunction with the securest game and payment providers so you can enjoy Spin A Win in peace.
Can I play Spin A Win on my phone?
Yes! Playtech have made sure this game is available across as many devices as possible so that no player ever needs to miss out on the fun. Spin A Win is available on desktop, tablet and mobile so you really can play, spin and win from anywhere.
How is Live Spin A Win different from Roulette? 
Live Spin A Win is different from Roulette thanks to the added features. Spin A Win's wheel of fortune is decorated with eight different win multipliers. The main difference between Spin A Win and Roulette is the fact that the amount won back in roulette will always be the same whereas, in Spin A Win, the wheel of fortune directly determines how much you will win.
Is Live Spin A Win the same as Wheel of Fortune?
The concepts of these two games are similar as they both feature a live dealer and use a technicolour wheel of chance at the core of their game. But, Live Spin A Win is different from Wheel of Fortune as the prizes shown on the Wheel of Fortune wheel are what the player would win, while the prizes shown on the Live Spin A Win wheel represent bet multipliers.
To play Live Spin A Win, as well as Live Hi-Lo and other live casino games, use our sign-up link and join Paddy Power™ Games today.
Other live casino games:
Paddy Power Live Roulette game
Live Quantum Auto Roulette game
Live Age Of The Gods Roulette game
Paddy Power Live Spread Bet Roulette game
Live Spin a Win FAQ
HOW VOLATILE IS THE GAME LIVE SPIN A WIN?
Live Spin a Win is one of the Low volatility games you can play at Paddy Power.
DOES SPIN A WIN HAVE A LIVE DEALER?
Yes! The very thing which separates this game from the rest is the liveness of it. Live Spin A Win features both a live dealer and a real-life wheel of fortune. Gameplay is set in a studio where the wheel of fortune is the star of the studio and the live dealer takes care of placing any bets, spinning the wheel and, just generally making the players feel like they are playing in a real live casino.