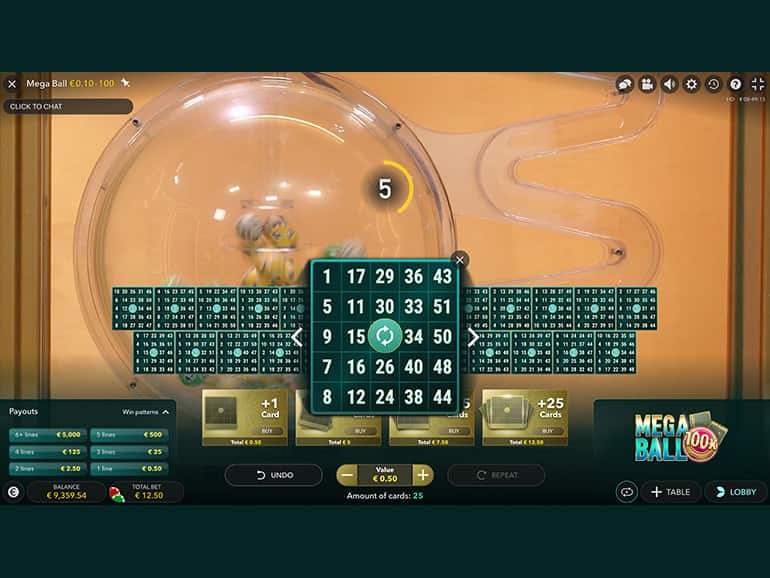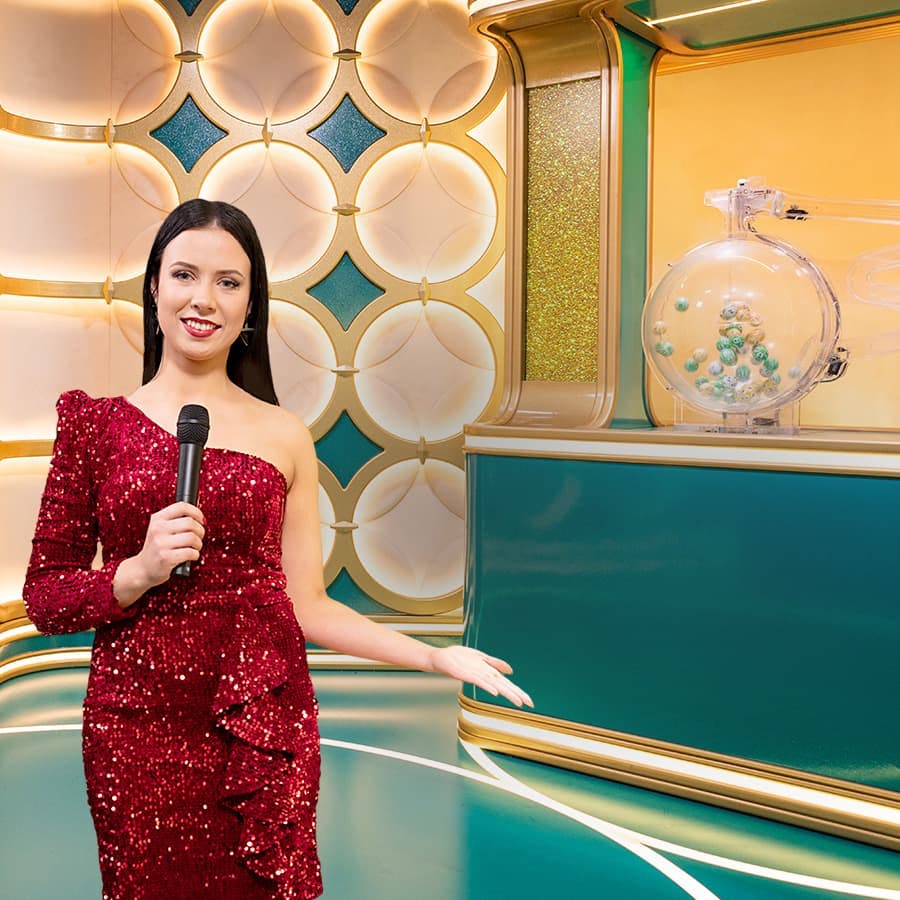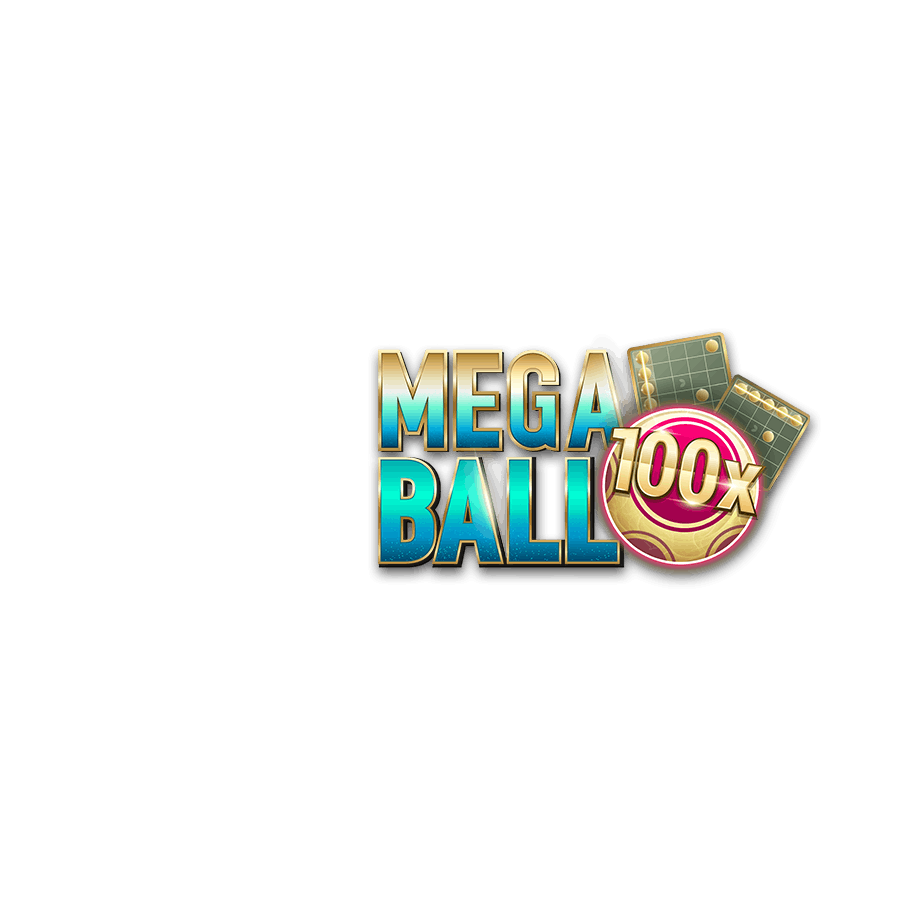 RTP 95.05% - 95.40%
Live Game Shows
Mega Ball
Mega Ball info
Play Mega Ball Online Live Casino game at Paddy Power
Fusing a game-show format with bingo rules and mechanics, this live dealer experience is unique and fantastically fun. Among the latest slew of products from Evolution Gaming, it's filled with exciting twists and turns to keep players on their toes.
The best part is that there are some big prizes up for grabs! 
Mega Ball Game Details
Coming from award-winning developer Evolution Gaming, this live casino title combines the best of lottery and bingo mechanics to create an exciting and innovative product. The idea is to complete lines on the card, and the more lines a player marks off, the bigger the prizes become.
The ultimate jackpot is what really sets this game apart, with players able to win up to one million times their stake in the final Mega Ball round (max payout is capped)!
Mega Ball Symbols
All good live casino games need something for players to wager on, but, unlike traditional games, there are no symbols here! Instead, Mega Ball invites you to put your money on virtual cards, where you choose the stake.
Features and How to Play Mega Ball
Wondering how to play? Here's how it works. The Mega Ball Casino Game begins with a betting phase, where players are invited to purchase a card and take part in the draw. How many cards you claim is up to you, with any number, up to 200 allowed!
Excitingly, this is a game that puts you in the driving seat, so prizes aren't based on random values: rather, you choose how much you stake on the cards, and this in turn, influences the prizes you can walk away with.  
Once the draw begins, wait and see whether any of your numbers come up – the more you can mark off, the bigger the prize! While there aren't any bonus features at play, some massive multipliers are existing in-game, including the Mega Ball itself!
Should you come up trumps in this final draw, you could take home up to one million times your stake (max payout is capped)!
What are you waiting for? Play today at Paddy Power Paddy Power Games. 
Suggested Games 
If you liked Mega Ball, you might also like our other live games provided by Evolution Gaming, including: 
Mega Ball Live - Playing for Real Money 
Playing Mega Ball, live casino game, is simple once you get the hang of it. Mega Ball can be played on desktop, mobile and tablet too. The aim of the game is to get as many lines per card, as possible. You have complete control over how many cards you buy and what value you assign to them. The lowest value that can be assigned to a card is 0.10 with the maximum being 100.
Each card bought has five rows and five columns where 24 random numbers occupy the different spaces on the card. The centre square acts as a free square that is already marked. Once you have bought your card, you will want to pay attention to the numbers being picked out by the live dealer as if you have a corresponding number, you might have just formed a winning line. Up to 12 lines can be won in a single card and lines may be formed horizontally, vertically and diagonally.
Rounds
A single round consists of 20 balls being picked from the ball machine by the live dealer. Evolution Gaming make life easier by marking and sorting the cards automatically. The card which is the closest to winning will automatically be moved to the front of the cards.
Cards can be bought in packs of one, 10, 15 or 25 and up to 200 cards can be purchased for a single game. You can change the value of your cards whilst the betting time is open. Values picked would be assigned to all cards as they must all have a uniform value. This means that you cannot have a card that is worth 10 and a card that is worth 20 in the same game.
All purchased cards are visible on the screen and you can zoom into them to be able to better see what you have. If you are unhappy with the numbers on your card and the betting time is still open, you can press 'refresh numbers' and boom your numbers are changed! Be careful though, as this can only be done whilst betting is open, at the beginning of the game. Regardless, the game offers a chat feature if you need assistance.
At the end of a round is where the Mega Ball online bonus rounds take place! In these bonus rounds, a multiplier ranging from 5x to 100x is generated. This is how the multiplier is picked, but now we need a lucky number. This is where one final ball is drawn with that final ball being our lucky number for the Mega Ball! If the final number completes any line on any of your cards, the card which the number features on would benefit from the multiplier generated.
Possible Winnings
All payouts and possible winnings are displayed on the screen throughout the gameplay. The payouts shown are broken down into how much you would win depending on how many winning lines are formed. As the game progresses, the numbers needed for you to win, along with how much you would win, are highlighted in gold above your cards.
How many balls are there in Mega Ball Live game?
Mega Ball Live uses a traditional ball-drawing machine. The machine is filled with a total of 51 balls, but only 20 of those 51 are used per game.
Do I play against the dealer in Mega Ball Live?
In Mega Ball Live you are up against fellow players in the race to see who can form a winning line first. The dealer simply takes care of welcoming the players and picking out the 20 balls from the ball-drawing machine.
Is Mega Ball a Live Casino game?
Yes! Mega Ball uses live dealers, live ball-drawing machines and a digital wheel which is spun for the multipliers. Everything about this game simply begs to be live, so that is what Evolution Gaming did!
Does the Mega Ball game have a chat room?
Yes! The chat room can be found at the top left corner and is always visible during gameplay. If you wish to chat, all you need to do is press on the chatbox and start typing.
Can I multiply my winnings on Mega Ball?
Yes! The Mega Ball bonus feature is all about multipliers! Winnings can be won if the lucky number, which has a multiplier attached to it, helps you form one or several paying lines.
How many winning lines do I need to win at Mega Ball?
All that you need to win is one line, but up to 12 lines can be won in a single card.
How many cards can I play at the same time in Mega Ball?
The maximum number of cards that can be played at one go on Mega Ball is 200. Don't forget that all cards played in the game must be of equal value to each other.
Is Mega Ball a bingo game?
Mega Ball Evolution Gaming is a bingo game on steroids! The classic gameplay of bingo mixed with modern features such as Mega Ball and the multiplier help classify Mega Ball as something more than just a simple bingo game.
New to Paddy Power? Check out the Live Casino Welcome Offers!
Mega Ball FAQ
HOW VOLATILE IS THE GAME MEGA BALL?
Mega Ball is one of the Medium volatility games you can play at Paddy Power.
WHAT IS THE THEME OF THE GAME MEGA BALL?
Mega Ball is one of the TV Show themed games offered by Paddy Power.
How many times is the Mega Ball drawn during the game?
The Mega Ball is drawn only once, at the end of the round. 
Who is the software developer of the live casino Mega Ball game? 
Evolution Gaming created Mega Ball.